Tribal Habits vs eLearning Authoring Software Comparison
Making the right elearning authoring software comparison is a critical decision that enables your organisation to drive growth, engagement and outcomes.
This page compares two of the key choices – an integrated learning platform (LMS + built-in elearning authoring features), like Tribal Habits, to stand-alone elearning authoring software (which must then be combined with a separate LMS) – to help you choose the one that's right for you.
Tribal Habits is a modern learning platform designed to be an integrated solution for all learning and training needs, while integrating with other key platforms in your organisation – human resources, e-commerce, identity management (SSO) and communications.
Tribal Habits combines a learning management system, training content creation, a ready-made library of training modules, an image library and editor, video hosting and streaming, compliance and CPD tracking and learning data analytics.  
eLearning Authoring software
Stand-alone eLearning authoring software has traditionally been used by professional instructional designers, in large organisations or specialist training creation firms, to build stand-alone elearning modules (which are then uploaded into a separate learning management system (LMS) for hosting).
eLearning Authoring Software Comparison
Let's start by comparing some of the key outcomes required by modern organisations for creating, sharing and managing learning.
| | Tribal Habits | eLearning Authoring Software |
| --- | --- | --- |
| | Tribal Habits has a completely guided training creation process which empowers anyone in your organisation to build interactive online training. You can create unlimited interactive training which is specific and relevant to your organisation. | eLearning Authoring Software is built for professional training staff. While it may have powerful features, it has a steep learning curve. Progress can be slow and even small changes take time. |
| | Tribal Habits guides you to create great online training as you work with Sage, our AI-powered training creation coach. She analyses your content and provides real-time advice. You can also request free video reviews of your modules from our own expert designers! | eLearning Authoring Software is a blank slate. It provides no guidance or help in creating training as it assumes you are an expert online learning designer already. You are on your own. |
| Peer, social and collaborative learning | Tribal Habits allows contributions to be shared between learners in a module. This allows for learners to reflect on outcomes and decisions from their peers, or even contribute their successes and actions as social learning opportunities. | Online training created in eLearning Authoring Software isolates each learner. Data and content cannot be shared between learners undertaking the same module (no peer or social learning possible). |
| | With Tribal Habits, all your content is stored in the cloud. It is downloaded and streamed to learners as required. This means media does not need to be compressed - use HD video, hi-res images, scalable fonts, embedded live media and more. | eLearning Authoring Software bundles and exports your content into a compressed file to upload into your learning management system. Compression reduces media quality dramatically. Videos are either very low quality or limited to linking to YouTube. |
| Distribution and enrolments | Tribal Habits is an integrated learning platform. It can both create and distribute online training, including all enrolments, reminders, tracking and reporting. Create and distribute online training as one process, with no further costs or platforms are required. If you want to update any content, it takes seconds (including built-in tracking of version history). | eLearning Authoring Software exports its online training as a file which needs to be hosted in a separate learning management system. Any changes require re-exporting and re-uploading. |
| Learning data and reporting | Since Tribal Habits controls both content and learners, every user contribution is recorded. You can easily track actions and outcomes to demonstrate training success. For example, a graded assessment in Tribal Habits reports on number of attempts, pass mark and answers to every quiz question (individually and aggregated). | Online training created in eLearning Authoring Software only sends simple data back to the learning management system (success and pass mark). All other learning data is lost. For instance, a graded assessment in a traditional eLearning module can only report on the final pass mark - answers to each quiz question are not shared. |
| | With Tribal Habits, you can have unlimited training creators in your subscription. Anyone can create online modules - managers training their teams, top performers sharing their skills, safety experts building compliance modules. | eLearning Authoring Software requires a licence for each training creator (typically >$1,000 each). eLearning Authoring Software is complex and difficult for non-professionals to utilise. |
Need to share your learning content?
While Tribal Habits is a completely integrated learning platform, with built-in sharing and management function, you can still export your Tribal Habits elearning content.
We have amazing SCORM links – small SCORM 1.2 files that can be uploaded into your LMS (or into multiple customer LMS at the same time) to allow an LMS to manage enrolments and track completion.
In the meantime, you can retain control of your content, instantly update modules, monitor SCORM link usage and still track all learning data! Plus you can export a PDF of your content, track version history and download all learning data!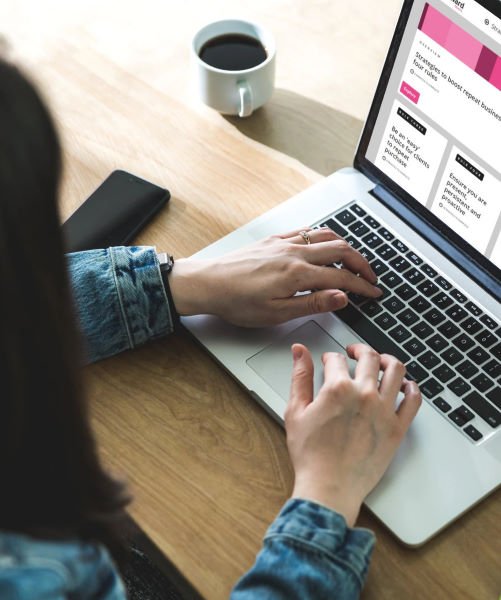 Avoid complex eLearning Authoring Software
The idea of eLearning Authoring Software was developed 20 years ago when cloud computing didn't exist. It's based on technology developed in the 1990s. While it can be powerful, it is built for expert designers with the training, skill, time and energy to use.
For 95% of online training, eLearning Authoring Software is too complex, too difficult to update and too slow.
With Tribal Habits, anyone in your organisation has the ability to design online training. Create and enrol in minutes and hours, not months and years.